My Mr. Rochester – Jane Eyre Retold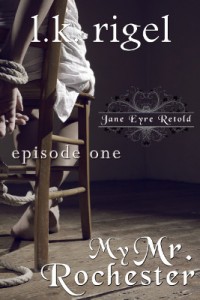 One of my more useful traits as a writer is one of my biggest flaws as a professional author:
[To see how it all turned out, click here.]
Like fairies, I'm easily distracted by shiny objects.
<–  original cover
One day when I took a break from War of the Wyrd and The Goblin Ball (Tethers 3 and 4), I started fooling around with a project I've been wanting to do for years – since before Space Junque! even (wow).
I love the novel Jane Eyre. If you follow my website, you know I've written about my frustration with all the film versions. Each has its virtues and definitely its flaws. No one has ever told the St. John Rivers part of the story well.
Current cover –>
So I was messing around with it … and it grew and grew and … took over. I'm going to be I'm now well into putting out a serial of Jane Eyre, retold. It's set in a future dystopia (or utopia, depending on your point of view, I guess!) after the red states and blue states in the United States finally crack up and go their separate ways. My Mr. Rochester is set in New Judah, the country formed by the red states after the Great Secession. After all, we need a world where divorce and birth control are illegal and the "keeping" of women is a virtue in order for the basic plot of Jane Eyre to work.
Jane Eyre is perfect for the serial form when you include all of the book. I think of it like a BBC miniseries. As you can see by the covers, there are five episodes, each from 23K – 40K words.
Episodes available now:
1                        2                        3                    4
I feel SO guilty about setting the fairy books aside yet again! Mr. Rochester just swooped in and took over. I have been powerless to resist him.