My Mr. Rochester – Jane Eyre Retold
Mesrour
Part 1:   In latter 21st century New Judah, a country founded on biblical principals after the Second War Between the States, orphan Jane Eyre leaves her aunt's cruelty at Gateshead Righteous Household for the sterile austerity of Lowood, a school for inconvenient daughters of families of rank.
Jane survives the school's sterile austerity and finds a place at Thornfield Righteous Estate ~ where she encounters a rough, mysterious stranger who threatens the tranquility of mind she's fought so hard to achieve.
Try Episode 1, Mesrour, free when you sign up for my newsletter.
Master
Part 2:  Jane has no intention of falling in love with Mr. Rochester, but as he draws her out, her attachment to him deepens. Still it's obvious Mr. Rochester prefers the company of a senator's daughter, the beautiful and accomplished Blanche Ingram ~ who seems determined to have Rochester for herself.
Jane tries to avoid Mr. Rochester, but when she saves him from an attack by a crazed servant, she comes perilously close to losing her heart to a man she can never have.
Trickster
Part 3:  In the aftermath of a terrible night, Jane finds solace and delight in Rochester's arms. She's called away to Gateshead where she makes a shocking discovery, but nothing is more astonishing than her homecoming to Thornfield.
Lover
Part 4:  Mr. Rochester draws Jane closer, using physical intimacy to strip away her defenses. She finds herself more dependent on him every day ~ but is it love or mere desire that binds them?
Jane feels increasingly overpowered by Rochester's personality and will. When the devastating secret of Thornfield Hall is exposed, she may not be able to save herself.
Liberator
Part 5:   After Mr. Rochester's ghastly betrayal, Jane flees Thornfield. When young, handsome, and righteous St. John Rivers offers Jane a respectable but loveless marriage, she realizes she loves Rochester more than she cares for her reputation.
When Jane's dreams of Rochester invade her waking hours, she's driven back to Thornfield ~ only to find more than the Hall in ruins.
---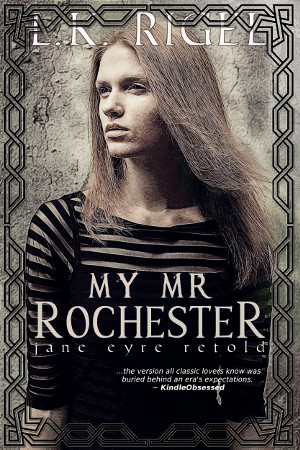 MY MR ROCHESTER