L.K. Rigel
L.K. Rigel  stories are set in speculative worlds where you might find fairies, vampires, shapeshifters, ghosts, spoiled goddesses, fallen angels, or futuristic societies.
Uncanny World series ~ a world of shifters, witches, vampires, suspense, and romance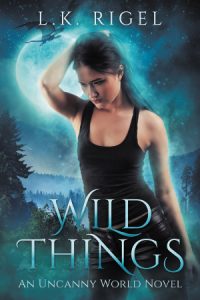 Wild Things (Uncanny World 1)
ON A MISSION TO RETRIEVE a dangerous stone stolen from his pack, Gabriel Madoc accidentally kills the thief–a wolf shifter from a rival clan. Gabe has sworn never to take a mate, and so he's utterly undone by his primal, protective reaction to the dead werewolf's human wife.
ANNIE BELO DIDN'T KNOW werewolves existed; now on the next full moon she will become one–and she'll have to trust her husband's killer to help her through the change.
And . . . a dragon shifter might be after them both.
---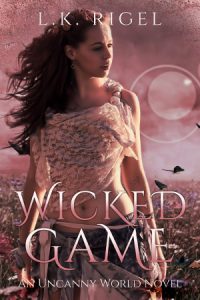 Wicked Game  (Uncanny World 2)
A good wolf risks all to save the wild witch he loves…
PHAEDRA CASTELL HAS NEVER fit in anywhere until the clan mage takes her on as an apprentice. Now she chases vengeance for what happened to her brother, and the descent into dark magic takes her to the edge of sanity and the brink of losing her soul.
RHYS MADOC'S WOLF recognized Phaedra Castell the first day he saw her ~ mine ~ but her thirst for revenge threatens the bond they've never openly acknowledged. Phaedra could lose her soul ~ and destroy Rhys's heart.
How could she not know he'll give everything ~ heart, soul, mind, and body ~ to save her?
---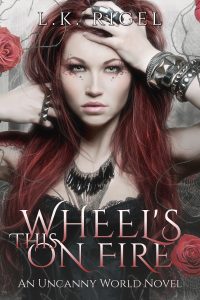 This Wheel's On Fire ( Uncanny World 3 –  coming next) 
Something evil is coming…
THE ONE CONSTANT in cat shifter Dedo Dobey's life is her love for wolf shifter Rafael Madoc. She left home when she sensed Rafe was soul bonded to someone else, but now she's going back to have it out with him once and for all.
While on standby for a flight to California, Dedo overhears two strangers at the airport discussing a plot to steal a deadly banestone from the Madoc compound. Curious about the magic object she'd never heard of before and happy to grab a free ride home, she stows away on their chartered plane, hoping to learn more.
Everybody calls Dedo a hot mess of bad timing and big mistakes. Maybe making rash decisions like this is why.
---
---

My Mr. Rochester (Jane Eyre Retold)
…the version all classic lovers know was buried behind an era's expectations. 
~ KindleObsessed.
The classic story retold set in a neo-aristocratic future.
After a second North American civil war, the country of New Judah emerges where women are revered as one of the nation's First Principles. But to a young woman of no family or fortune, that reverence can be as constricting as a cage.
Fiercely independent, the orphaned Jane Eyre treasures her position as a licensed governess ~ until falling in love with her broken and bitter employer becomes the most dangerous entrapment of all…
---
---
Wyrd and Fae series ~ a world of fairies, wyrders, goblins, minor gods, and romance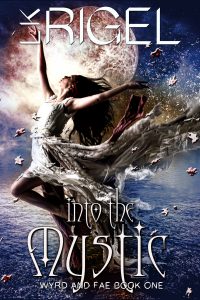 Into the Mystic  (Wyrd and Fae 1)
Give me your hand. 
Give me your heart. 
Give me your soul everlasting…
A Romance Reviews top pick.
Yesterday:  A wyrding woman with a good heart casts a spell meant to save two lives. It works … in its way.
Today:  Lilith Evergreen travels to the other side of the world, and it's as if she's always belonged in the land of mist and rain, birthplace of King Artros and home of Excalibur. When she meets terminally cheerful tour guide Cade Bausiney, their attraction is so instant it couldn't possibly be real. She feels she's known him since before she was born. But the other explanation ~ that they've been possessed by the spirits of two doomed lovers of local legend ~ is even more preposterous.
Tomorrow:  Elyse of Glimmer Cottage has lived for a thousand years, and now that she's found the perfect heir, she can give up her semi-mortal existence. While Lilith and Cade both struggle with feelings that might only be caused by a spell, more powerful magic threatens to imprison Lilith forever.
(Formerly titled  Give Me  , this is an expanded second edition of Book 1)
---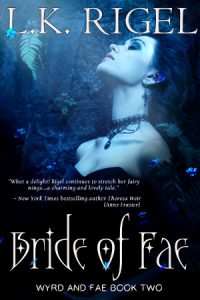 Bride of Fae  (Wyrd and Fae 2)
A love more powerful than magic or time.
Beverly Bratton has a safe, mundane life. No drama. No magic ~ until a fairy's charm sends her a hundred years into the past and into the path of a banished fairy prince.
The Dumnos fae are turning dark. To save his court, the prince must retrieve the mystical coronation cup which has fallen into human hands. Hope is lost until Prince Dandelion meets the only human who can help him.
Together Beverly and Dandelion fight dark forces human and fae to put him on the Moonstick Throne and return her to her own time ~ but the better she knows the prince, the less she wants to go.
---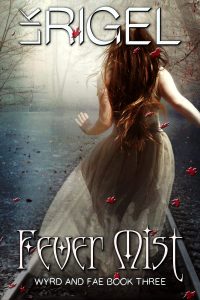 Fever Mist  (Wyrd and Fae 3)
Some desires the high gods deny… and some they feed.
When Elyse of Glimmer Cottage escapes the fae realm, she returns to a completely changed human world. She accepts her fate, but the loneliness is crushing ~ until a strange mist rolls into Tintagos and lures her from her warded self-imprisonment.
In the Small Wood east of Tintagos, Elyse meets someone who reveals a world she didn't know existed ~ and offers what she had given up as even possible ~ a chance to know love.
An origin story in the Wyrd and Fae universe.
---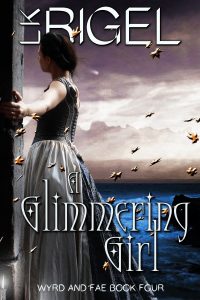 A Glimmering Girl  (Wyrd and Fae 4)
A protected daughter of the high gods with unmeasured mystical powers.
A weary warrior home from the Crusades to a village plagued by civil war.
A fanatical priest determined to let no wyrding woman live.
And a love affair whose effects ripple through time to the present day.
Igraine should have remained at Avalos, the hidden mystical island which has always been safe haven to the wyrd. There her life was full of magic and fun, learning to work her will on the elements ~ and even how to transform into a falcon.
But when she answers a Tintagos farmer's plea to help a baby in distress, Igraine comes to the attention of a fanatical priest who would destroy all the wyrd and is unwittingly caught up in the worldly schemes of both kings and fae.
A human warrior returned from the Crusades may save her ~ if a dark fairy's obsessive desire doesn't kill her first.
---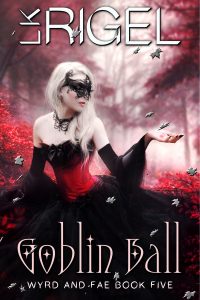 Goblin Ball  (Wyrd and Fae 5)
Bathed in the mystic moonlight 
On the night of a goblin ball 
Look to the moon at midnight 
When true love will free us all.
Fairies and goblins and wyrders ~ oh, my! The goblins are coming to Lady Lexi's ball. Once and for all, Max means to put true love on Cissa's dance card ~ but that redheaded fairy queen expects the midnight moon to deliver her long lost prince.
The exciting conclusion to the Wyrd and Fae series.
---
---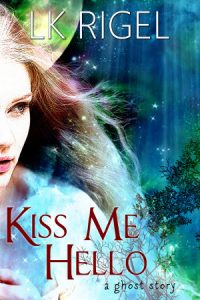 Kiss Me Hello
From the journal of Joss Montague: 
Last night I won my soul in a game of chess…
At her aunt's spooky old mansion on the northern California coast, Sara Blakemore discovers a journal written by a passionate, romantic, and loyal man ~ nothing like the cheating husband she's come to Turtledove Hill to escape.
Joss Montague doesn't know how long he's wandered in the cold mist until a young woman finds his journal. As she reads each page, the mist begins to clear and Joss remembers how good it is to be alive.
When Sara's husband shows up wanting to save their marriage she should be happy ~ but a ghost from another time may have already captured her heart.
---
---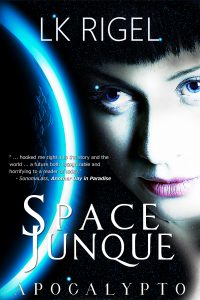 Space Junque (Apocalypto 1)
Humanity will destroy the world.
The gods will make a new one.
The trick is to survive both.
With civilization on the brink of collapse, Char Meadowlark flees with Jake Ardri, cocky pilot of the shuttle Space Junque, to the orbiting Imperial Space Station. War breaks out below, and ancient gods return to impose a new order.
Caught up in a divine plan to save the world, first Char and Jake have to survive the apocalypse.
---

Spiderwork  (Apocalypto 2)
Her fate was to hold the world together.
His destiny was to tear it apart. 

After the cataclysm, Durga rules the chalices and keeps the peace among the city-states. Her life is filled with luxury, pleasure, and duty. She can have anything she wants… but love. Prince Khai, the free-willed scion of Luxor, will risk even the goddess's wrath to win Durga's body, her soul ~ and her heart.
Durga knows she should stay away from Khai, but when Char is kidnapped and Jake's authority is challenged, she and the prince will have to work together to save the fragile new world from chaos.
---

Firebird (Apocalypto 3)
The King of Garrick wants to kill her.
The King of Allel wants to love her.
And shapeshifters stole her baby's soul!
It's been a hundred years since sea-level rise and global nuclear war wiped out most of humanity. A young girl's life of constant hunger and never-ending drudgery in Garrick Settlement 20 comes to an end when she is chosen by the goddess Asherah to be a chalice who will produce natural-born heirs for the rulers of world's city-states. Mallory's life becomes one of luxury and pleasure with only one taboo: she is forbidden to fall in love.
But when Mal is marked with a prophetic firebird totem, she finds herself torn between the will of gods and the schemes of kings. And when Edmund of Allel tries to save her, feelings neither of them can repress could well destroy everything she's struggled to achieve ~ and bring down the entire new world order.
---
---