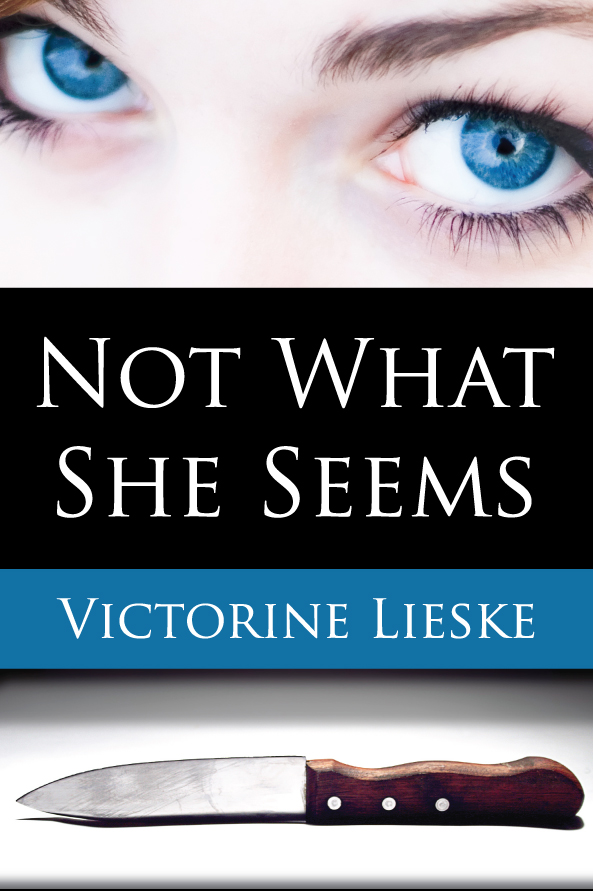 I was delighted when Victorine E. Lieske agreed to be interviewed for Rigelodeon. She's one of the most successful self-published authors on the scene today – and one of the very few who have made The New York Times list of best-selling titles (for Not What She Seems, pictured left).
Vicki is also one of the nicest people around – her sweet disposition inspired the character of Faina, the beautiful chalice in Spiderwork.
When I received her interview answers, I was even more excited – she's interesting! Let's just jump right in:
Hi, Victorine. Thanks for coming to Rigelodeon. It's pretty exciting to talk to a New York Times bestselling author. Tell us about your glamorous self!
Thank you, LK! I'm really not glamorous at all. I have four kids that I get ready for school each morning. (Well, the 16 year old gets himself ready.) I make rubber stamps for the craft industry for my 'real job.' And then I write when I can squeeze in time.
Your second novel, The Overtaking, is YA and science fiction – decidedly different from the romantic suspense of Not What She Seems, your runaway bestseller. Which genre do you prefer?
I really love them both. Yes, they're different, but they're a lot alike too. The thing that drives me to write is the inner conflict in my characters, usually a romantic element. Most of the stories that come to me have a core romance driving the story.
The Gathering is a short story located in the world of The Overtaking. What led to its creation? I actually read it first – and loved it – but do you recommend reading the two in any order?
I was working on the second book in The Overtaking series and a character's back story came to me. A scene with him and Danielle, and it seemed quite powerful. At first I was going to do a flashback, but the flashback developed into a story of its own, so I fleshed it out and published it as a stand-alone story. A person could really read The Gathering before or after The Overtaking.
I see The Overtaking is part of a series. Will Not What She Seems have a sequel?
I've been asked that several times. At first I always said 'no' however I was lying in bed one night and a storyline for a sequel come to me. I kind of laughed it off, but every time someone asks me if there will be a sequel, I tell them that I did think of a storyline the would work as a sequel, and that maybe someday I'll write it. It's not in the works right now.
I stole this question from Michelle at Indie Paranormal Book Reviews because I love it: Tell us something about one of your characters that the character doesn't know.
Ooh, that is a great question! Well in the beginning of The Overtaking we meet Shayne who gets taken captive and has his memory altered. He thinks he's from Earth, living in our time, when he's actually inside of a large Holodome where much of what he sees is not real, it's holographic. He has telepathic powers and can read minds, which he doesn't know either.
What project are you working on now?
I am currently working on two different novels, the second book in The Overtaking series and a stand-alone romantic suspense novel about a woman in the witness protection program…although she gets shot at and goes on the run, never really making it to the protection part.
There's also Lieske's young adult romance novelette,  The Practice Date, which is part of the giveaway package in today's newsletter!
Six silly questions …
Ah! Only subscribers to Rigelodeon, the Newsletter of LK Rigel will ever learn Victorine's six silly answers – plus have a chance to win ecopies of her books – or a $10 Amazon/B&N gift card! Have you subscribed? (It's going out about an hour from now)