I've joined a blog hop. I don't know, call me wild and crazy – it sounded like fun at the time. And it has been! And it hasn't even started yet … though it will in a few hours.
Wazza blog hop? I'm not really sure. But this blog hop is a BUNCH (100+) of blogs all linked together from tonight until December 4 and giving away great stuff.
I'm giving away a $100 gift certificate to Ozone Socks. I waxed philosophic about these socks in this post. I'm so jealous of my winner.
You can preview some of the prizes the other blogs are giving away at this link.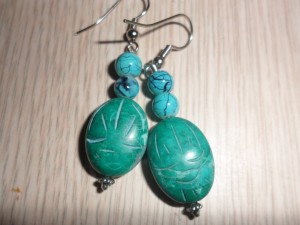 The Blog of LK Rigel (aka moi) is also giving away this lovely pair of earrings, designed and crafted by Mandie Stevens.
And I'll top it off with a $25 gift card to either B&N or Amazon, winner's choice.
Woohoo! Just for fun … because we can. Life is good!
Go here to enter my giveaway. Below the Rafflecopter form are links to all the other giveaways in the hop.