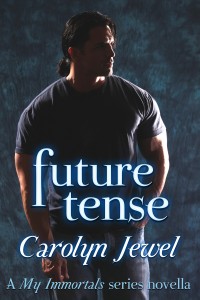 This was going to be an enthusiastic effusion over Carolyn Jewel. I love her books, both her paranormals and her historicals.
Instead, it's another chapter in the WTF saga that is Dorchester in the small and legacy publishing in the large.
In my opinion, Carolyn Jewel is going to flourish in the New World Order that is indie publishing, providing the best of both worlds for her readers.
For instance, Future Tense is a new story in her My Immortals series that you can pick up for your Nook or Kindle.
We've longed to have her backlist titles for our ereaders, so of course her legacy publisher … did nothing!
There's no need to fear! (said in my best Underdog voice) Carolyn has at last recovered her rights and made Lord Ruin and The Spare available.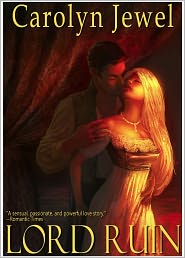 But wait! There's more!
We all know it's important to leave reviews – for good or not-so-good – at B&N and Amazon. Reviews help sell books. Leaving a review is one of the tangible things you can do to ensure your favorite authors keep writing.
And we all want Carolyn to keep writing!
So not only are these great titles available at last, but if you leave a review (and if you are 18 or over), Carolyn will send you a free copy of — in her words — a short but "pretty erotic historical" story and one "possibly filthy paranormal" story.
Click here for all the smexy details.
[The following about Dorchester has been resolved, as explained by Carolyn in the comments; hence the title change to this post.] Now, for The Outrage … If you've tried clicking on the Amazon links above, you have met with frustration and despair. Apparently, Dorchester sent some kind of demand to Amazon to take down Jewel's backlist books, and Amazon did — without contacting Jewel about the matter.
There's only one small problem: Dorchester does not have the copyright to these books. Carolyn Jewel does – and she has the reversion of her rights in writing.
Frankly, I don't know how Dorchester thinks it can continue with any credibility in the business. What author would sign with them?
Meanwhile – grab Jewel's books at B&N while you can!
UPDATE: According to CJ's tweet, it was all a big SNAFU… sheesh.