So, I'm working on a new book. It's a departure from the Apocalypto series, a li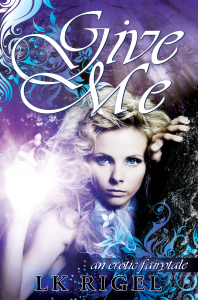 ttle break. What do they call that refresher course in the middle of a marathon meal?
This story is called Give Me. It's an erotic fairytale. Not erotic in the smexy sense, but erotic in the classical sense. It's a tale of possession and reincarnation, of desire and obsession.
The cast of characters includes handsome and honorable Prince Galen, beautiful and kind Princess Diantha, the evil sorceress Lourdes — and her precocious little sister Elyse.
That's Elyse on the cover.
Robin just sent me the cover. Again, she hits it out of the park. Makes me want to get the book finished pronto …