A few months ago, I drove down to Santa Clara for a Saturday deposition (in my other life, I'm a court reporter). Desperate for a fix, I asked GPS for the nearest place to get coffee which led me to a shop I'd never heard of which says more about me than about the coffee house.
I was instantly impressed by my utter lack of cool quotient when I walked in. Ordering was problematic. No! You can't have 3 shots! You can have 4 shots or 2 shots! (Does the Soup Nazi do their menu planning?)
I ended up with four shots in 16 ounces — but the barista promised me it would be good.
Oh.Em.Gee. Best latte I have ever had in my life.
But I digress! The other best thing evah — I picked up some cookies that looked just like this: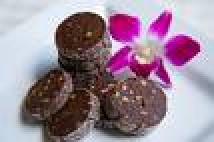 Probably because they were exactly these cookies! Satura Salty Chocolates. I'd never heard of them either. I life a sheltered life!
Oh, oh, oh. So good. Turns out they are made in Hawaii and the Bay Area but nowhere to be found as far inland as I. It also turns out there is no recipe available anywhere on the internet (that I can find).
I've been thinking about these cookies ever since. Finally, in desperation, I made up a recipe — and it turned out pretty close!
In one bowl, cream together 3 cubes sticks of butter and 1 cup of confectioner's sugar. Add 1 tablespoon vanilla (I always put too much vanilla in stuff) and beat till fluffy.
Dry ingredients:
In another bowl, blend: 3 cups flour, 1/2 tsp salt, 1/2 cup best quality unsweetened cocoa powder you can get your hands on.
Chop to consistency you like:  3/4 cup bittersweet chocolate and 1/2 – 3/4 cup macadamia nuts (roasted and salted ones will taste best). Add both to flour mixture and blend well.
Mix the dry ingredients into the buttercream.  Then roll the dough into logs, wrap in plastic wrap and chill for as long as you can stand it. (having had these cookies once, you'll want to forego the chill and go straight to bake. DO NOT DO THIS)
When the dough has chilled, slice with a very sharp thin-bladed knife (you'll run into beastly nuts that want to divert your blade) and arrange on cookie sheet lined with parchment paper.
Bake at 325 degrees for 20 minutes.
= = = = = =
And now, a word:  Treat yourself like the queen you were always meant to be. Hie thee to Sur La Table and procure parchment paper, good chocolate, and good cocoa for your kitchen. Good tools make good work!