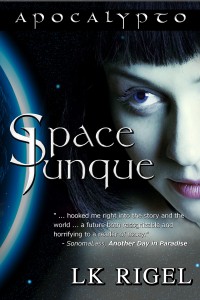 In flagrante apocalypto.
Edited by USA Today bestselling author Theresa Weir/Anne Frasier
Nominated for Best Romantic Science Fiction/Fantasy in 2010 and Best Debut Book in 2010 by The Romance Reviews.
The DOGs want to destroy the world. The gods want to make a new one. The trick is to survive both.
It's late in the 21st century, and the earth is a quagmire of environmental pollution and political corruption. At the airport fleeing a government quarantine, Char Meadowlark runs into cocky pilot Jake Ardri.
When eco-terrorists attack, Char escapes with Jake in his shuttle the Space Junque. The battle spreads across the planet and up into orbit. It feels like the end of the world, but an ancient goddess returns to save humanity.
= = = = = =
"Space Junque is a fun, smart read, and I really think people will enjoy it. I hesitate to make comparisons, but I think it has a bit of a Firefly vibe to it."