I'm SO excited!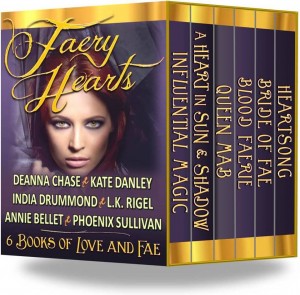 When Phoenix Sullivan asked if I'd like Bride of Fae to be included in this collection of novels about the fae, I was thrilled – and what perfect timing, with A Glimmering Girl coming out later this month!
This group of six complete novels is on sale for the insane 99¢ price. Now that's a shiny object! Grab, grab, grab yours here:
The fae. Find them here in all their forms–dark and mysterious, light and winged, shifters and schemers. From the faery lands of the ancient Isles to the uncertain streets of the modern world, six strong heroines risk everything to face magic, binding and the impossibility of forbidden love that will forever change their lives.

6 full-length novels in a LIMITED EDITION box set!
Nearly 500 reviews across the individual books, with a 4.4 star average.

INFLUENTIAL MAGIC – Deanna Chase
A HEART IN SUN AND SHADOW – Annie Bellet
QUEEN MAB – Kate Danley
BLOOD FAERIE – India Drummond
BRIDE OF FAE – L.K. Rigel
HEARTSONG – Phoenix Sullivan (a box set exclusive!)
______________________

INFLUENTIAL MAGIC (Crescent City Fae – Book 1) – Deanna Chase
It's tough being a faery in New Orleans, especially for a part-time vampire hunter for the Void. When Willow Rhoswen's life is threatened, the director saddles her with a new partner: ex-boyfriend, David, now turned vamp. Not trusting David, Willow turns to childhood crush, Talisen to help. Caught between two gorgeous men and a director who'll stop at nothing to control her gifts, Willow finds it's more than just her life in jeopardy.
_____________________

A HEART IN SUN AND SHADOW (Cymru That Was – Book 1) – Annie Bellet
In ancient Wales, Áine, a changeling woman with Fey blood and Selkie gifts, struggles to fit into the human world. Twin brothers Emyr and Idrys, cursed to live as hounds–Emyr by night and Idrys by day–rescue Áine when tragedy strikes, and the three soon confess their love. The only way to break the brothers' curse means Áine risking everything and confronting her own gifts and heritage. Love will set her free…or bind her forever…
_____________________

QUEEN MAB – Kate Danley (with help from William Shakespeare)
When Faunus, god of daydreams, breaks the heart of Queen Mab, she seeks revenge. Using the most powerful families in Verona, they wage war against one another, and place their final bets upon the heads of two youths: Romeo and Juliet. But when Mab falls in love with Mercutio, everything changes and she will do anything, even destroy the world, to save him. But will it be enough to stop tragedy? Or only spur it forward to its terrible end?
_____________________

BLOOD FAERIE (Caledonia Fae – Book 1) – India Drummond
Unjustly sentenced to death, Eilidh ran–away from faerie lands, to the streets of Perth, Scotland. Just as she has grown accustomed to exile, local police discover a mutilated body outside the abandoned church where she lives. Recognising the murder as the work of one of her own kind, Eilidh must choose: flee, or learn to tap into the forbidden magic that cost her everything.
_____________________

BRIDE OF FAE (A Tale of Wyrd and Fae) – L.K. Rigel
Beverly Bratton has a safe, mundane life–until a fairy's charm sends her 100 years into the past. To save the Dumnos fae from turning dark, Prince Dandelion must retrieve the mystical coronation cup that has fallen into Beverly's hands. For a fairy, love is rare. To love a human, impossible. But when Beverly and Dandelion come together to fight both wyrd and fae, they learn that in Dumnos the impossible happens every day.
_____________________

HEARTSONG (An Arthurian Paranormal Romance) – Phoenix Sullivan
By night, in her Gabriel Hound form, Brinn runs with The Wild Hunt. When she's unwittingly thralled by brother princes Alain and Pellinore, only one thing can free her: the blood of her captors. But freedom is not so easily won as the three of them form a grudging bond that soon turns intimate. Love should be easy, but The Wild Hunt wants Brinn back, the Questing Beast wants Pel, and Alain wants the impossible–to keep them both at his side.