The third book is now out in The Dark Future series by Debra L. Martin and David W. Small —  Zia's Path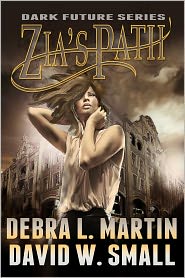 For Abraham "Ham" Jones, and his tomboy partner, Zia Slate, the stakes are even higher in this third book in The Dark Future series. They have agreed to accept the memory weapons from their new guardian, Henry Lloyd, but with the power of the weapons comes the responsibility to follow "the right path." It's suppose to be simple: help one person at a time, but nothing in this harsh world is ever simple. It's a dog-eat-dog world where food is scarce and gangs rule the street.
When Ham decides to go into the worst gang-ridden area of the city to save a little girl, Zia doesn't think it's a good idea. It's too dangerous, but eventually she agrees and the two set off in search of the girl. When Zia goes off to scout ahead, Ham's worst nightmare comes true. Zia is snatched by slavers. Can Ham find out where she has been taken and mount a defense to save her in two days before she is sold as a sex slave?
Other books in The Dark Future Series:
The Path to Destruction (Dark Path 1)  Kindle – Nook
The Right Path (Dark Path 2) Now free for Kindle and Nook!