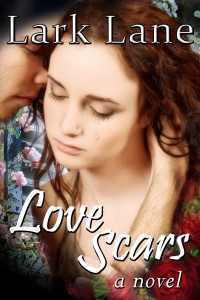 So … I haven't made it a real secret, but I haven't announced it either.
Love Scars   is a new adult romance by Lark Lane , the contemporary romance pen name for books with no ghosts, faeries, goddesses, etc. The adventure is the exploration of the human heart and life in the world we know.
Ever since Nora Deven watched helplessly as her family was murdered, she's struggled to keep her sanity as well as custody of her young niece. She's amassed so much student loan debt she may be forced to sell her house, their one anchor to the family they lost.
A scheme that could solve Nora's money troubles brings gorgeous but elusive J.D. Reider into her life. Just the kind of guy she could fall in love with if she wasn't so scarred. Their attraction threatens the defenses Nora worked so hard to build – and could expose a secret from the past even Nora doesn't know she's buried.
J.D. Reider's heart was broken years ago, and the millionaire tech genius retreated from the world. Only in his twenties, he's worth billions, but wealth hasn't healed his emotional scars. When J.D. meets Nora Deven, a fragile graduate student who could unwittingly sabotage the biggest project in his company's history, his biggest fear is that his desire for Nora will destroy the fortress he's built around his heart.